Resia at the lake
Your holiday in Val Venosta - Südtirol
An incomparably inspiring landscape. Pure peace and relaxation await you in Resia al Lago in South Tyrol. The high mountains, the crystalline air, the healthy mountain climate at over 1,500 meters above sea level: all this allows body, mind and soul to breathe a sigh of relief.
For sports enthusiasts, the Passo Resia holiday area offers countless opportunities, both in summer and in winter. For those looking for places of rest and relaxation, peace and tranquillity, there are several recommended places. Families will love planning activities in the region and enjoying their holidays together with fun and joy.
The village of Resia and Froi
Your holiday resort in brief
The village of Resia is located in the lake plateau of the Resia Pass on the border between North and South Tyrol and not far from Switzerland. Old Resia was flooded in 1950: a new village was created. Today Lake Resia with its lakefront and the submerged tower is the visiting card of the area and at the same time a postcard motif. The nearby Belpiano-San Valentino ski and hiking area is also very popular with locals and guests. The Adige, the second longest river in Italy, is born a few minutes walk from Resia. On the opposite side of the valley above Lake Resia, there is the hamlet Froi and our farm, marked with the seal of the Red Rooster.
Summer in Resia
Be active and seek peace and tranquility by the lake
Summer at Lake Resia is anything but boring, because here you can go hiking and biking, but also sailing, surfing and kitesurfing. All this is completed by the breathtaking mountain scenery of the Italy-Austria-Switzerland border triangle. Nature lovers and all those who like to choose a different activity every day have found the right place!
We will be happy to give you and your loved ones some tips on what to do in the Passo Resia holiday area. We obviously tested them and found them to be good!
Summer Activities in Resia
Here you are really spoiled for choice
Hiking and cycling
The high altitude trail in Vallelunga, the panoramic path from Malga San Valentino to Belpiano (which passes right in front of our door) and the Via Claudia Augusta cycle path are just some of the must-see attractions for hikers and cyclists. But the thematic educational routes in the tourist region are always worth a trip, especially for families with children!
Sailing, surfing and kitesurfing
The lake landscape of the Resia Pass with the submerged bell tower is a real hotspot for water rats. Thanks to its length of six kilometres and its width of approximately one kilometre and its position kissed by the wind, Lake Resia offers ideal conditions for sailing and kitesurfing. There is also an international maritime regatta every year.
Other activities
Boat trip on Lake Resia with the MS Hubertus Interregio. Horse rides Carriage rides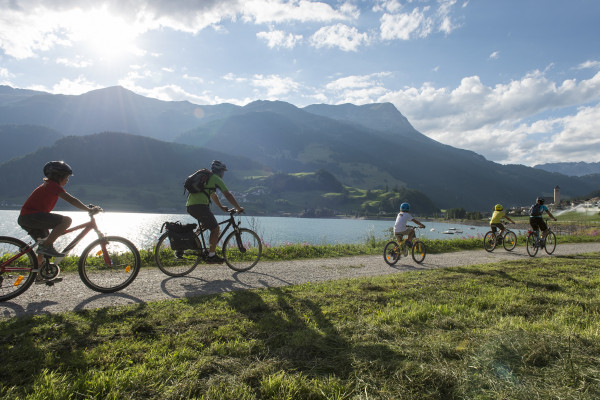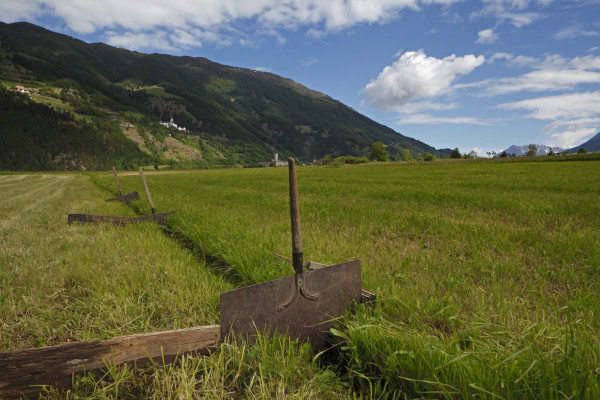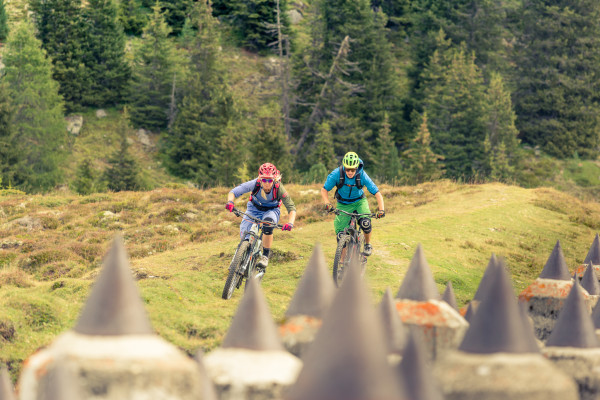 Winter in Resia
Wintersports and free time activities
Skiing in Resia
Wintersports and fun on the lake
The Belpiano-San Valentino ski area, located right on our doorstep, strikes beginners and professionals alike as a sun-kissed family ski area with 15 ski lifts and 65 kilometres of slopes of all kinds. We not only offer one of the most famous ski areas in South Tyrol but are part of the ski arena of the two countries with the ski areas of Nauders, Watles, Solda all'Ortles and Trafoi all'Ortles, believe it or not, five ski areas with just one ski pass!
We will be happy to give you and your loved ones some tips on what to do in the Passo Resia holiday area. We obviously tested them and found them to be good!
Winter activities in Resia
Here you are really spoiled for choice
Cross-Country and sledging
The cross-country trails guarantee ideal conditions for beginners in cross-country skiing around Lake Resia from 1,500 meters to 1,900 meters (high altitude trail in Vallelunga). And sledding fun for family and friends shouldn't be missed during your winter vacation, either! Take advantage of the sledging slopes of Resia and San Valentino, which are illuminated at night: this is also a unique experience for young and old!
Winter hiking and ski touring
With or without snowshoes? Uphill or hiking around the lake? Enjoy the perfectly prepared trails or the pristine winter landscape. The idyllic side valleys of the holiday region offer fascinating ski tours on the southern and northern slopes. Feel free to ask us for advice!
Other activities
Skating on Lake Resia. Snowkite. Nearby you will also find a wellness and bathing area.